industry news
thought leadership
Q2 Industry Update
by Wills Hay | 10 Jul 2023
America's foreign policy continues to dictate near-term government expenditure overseas, mainly focusing on Ukraine. Ukraine started a large-scale offensive after stockpiling weapons and creating battalions of NATO-trained Ukrainian troops. After two years of inactivity related to Afghanistan, the U.S. government seeks to partner with contractors to evacuate over 150,000 Afghans left in-country. Western presence in Iraq remains limited, with the focal points being Erbil and Baghdad. The forthcoming awarding of the Iraq Task Order on the Diplomatic Platform Support Services contract in the third quarter of this year is poised to substantially affect Iraq's contracting landscape. Private Equity continues to play a pivotal role within the defense Acquisition space. The government contracting industry focuses on LOGCAP and USAID's GHSC, with a keen interest in whether any contenders will emerge to challenge KBR, Fluor, Vectrus, Amentum, and Chemonics. Anticipated developments involving these significant Indefinite Delivery Indefinite Quantity (IDIQ) contracts should unfold in the third and fourth quarters, closely monitored by PTS.
UKRAINE continues to counter Russia while feuds unfold between Putin's inner circle. The leader of Wagner PMC led a mutiny at the end of June, driving his forces from Ukraine through southeast Russia, before being waved off through negotiations with Belarusian President Lukashenko. At the London Ukraine Recovery Conference, the EU organizations signed six agreements for a €50 billion Ukraine Facility and €800 million in investments. This is only a small fraction of the estimated trillion dollars needed for reconstruction. In the short term, the United States continues to provide finance and equipment. USAID and the Department of State are doling out contracts in-country, while the Department of Defense provides equipment rather than supporting projects. Bizzell Corporation won a contract to supply the Ukrainian military with 100 Field Accommodation Dugouts for its border services. There is a requirement for a Pro-Integrity project worth upwards of $99 million with an estimated solicitation date of October 2023. Ukraine is fighting corruption through digital transformation. They were the first country to place all relevant personal documents for individuals online through the Diia app. Chemonics continues implementing the Partnership Fund for a Resilient Ukraine through the Foreign Commonwealth Development Office. Tetra Tech is managing the largest USAID energy and DOS demining contracts in-country. DevWorks International seeks major donor partners interested in creating a Ukraine agricultural processing cluster together with MoveUkraine and Fruktova Zirka LLC. The biggest needs in Ukraine are ammunition, de-mining, medical treatment of soldiers, housing, and agriculture. The interest remains small for US contractors with no history of working in Ukraine. USAID mostly chooses contractors or INGOs who have worked there for over a decade.
AFGHANISTAN remains a priority for the US government, seeking to support the relocation of roughly 150,000 vetted Afghans through the Special Immigrant Visa program. Health and Human Services awarded Parsons Corporation a seat on a $75 billion IDIQ contract to support influx care facility services. HHS is expected to work with the Department of State to facilitate the movement of personnel from Afghanistan to Qatar, where they will be sorted to European bases or the continental US.
IRAQ expects to receive three large awards in 2023, directly affecting the US diplomatic mission. The US Army Corps of Engineers released an amendment to the Master Planning Single Award Task Order Contract worth $24 million. It's now expected to be awarded in July 2023. DOS announced that a new notional schedule will be provided for the DiPSS Mission Iraq Support Services (MISS) Task Order. The original release was scheduled for July 2023, with an award expected in December 2023. The DOS Medical Service Support Iraq II, worth $500 million, has been canceled. The current intention is to recompete on DiPSS pending market research. Future sources sought notices will be posted on sam.gov. The award was made to SOS International in February 2022, but in March 2022, the Agency issued a Stop Work Order. USAID seeks to support the Government of Iraq entities for an estimated $50-$100 million contract estimated to be awarded in July 2023.
PACIFIC remains on the backburner with Ukraine reconstruction conversations beginning. Several contracts are being issued for supply chain, facility maintenance, and fleet readiness. Arrow's Edge LLC won a $200 million USN contract to support Fleet Readiness. Department of the Army, US Army Corps of Engineers (USACE), Japan Engineer District, requires Architect-Engineer services with U.S. Firms and Joint Ventures for U.S. and Host Nation Construction Projects in Japan. The IDIQ value tops off at $150 billion, with an estimated solicitation of October 2023.
MERGERS & ACQUISITIONS in the second quarter focused on digital services and ship fabrication. IBM Consulting completed its largest acquisition to date by purchasing digital services provider Octo Consulting. The transaction is valued at $1.25 billion, with 1,500 employees moving to IBM. Trident Maritime Systems acquired Custom Alloy Corporation's assets to enhance what it can offer the USN. Carlyle and private equity firm Stellex Capital Management completed the sale of Titan Acquisition Holdings, a bi-coastal ship repair services and fabrication company, to an affiliate of Lone Star Funds. Arlington Capital acquired Pegasus Steel LLC, a maker of complex fabricated steel structures for submarines, aircraft carriers, and other naval systems. CDW purchased Enquizit, an Amazon Web Services cloud services provider, to the public sector. Through a $100 million deal, Bernhard Capital Partners acquired VSE Corporation. Akima has finalized its purchase of Pinnacle Solutions to expand into the defense training and simulation business.
LOGCAP V – U.S. Army Sustainment Command will move contracted Care of Supplies in Storage Services (COSIS) used to support Army Prepositioned Stock (APS) from the Enhanced Army Global Logistics Enterprise basic ordering agreement (EAGLE BOA) to the Army's Logistics Civil Augmentation Program Contract (LOGCAP). V2X, Fluor, KBR, and Amentum – Parsons maintain the four LOGCAP prime spots. APS COSIS task orders will be competed under these primes in 2023. PTS has roots in LOGCAP with extensive operational experience and a deep talent pool.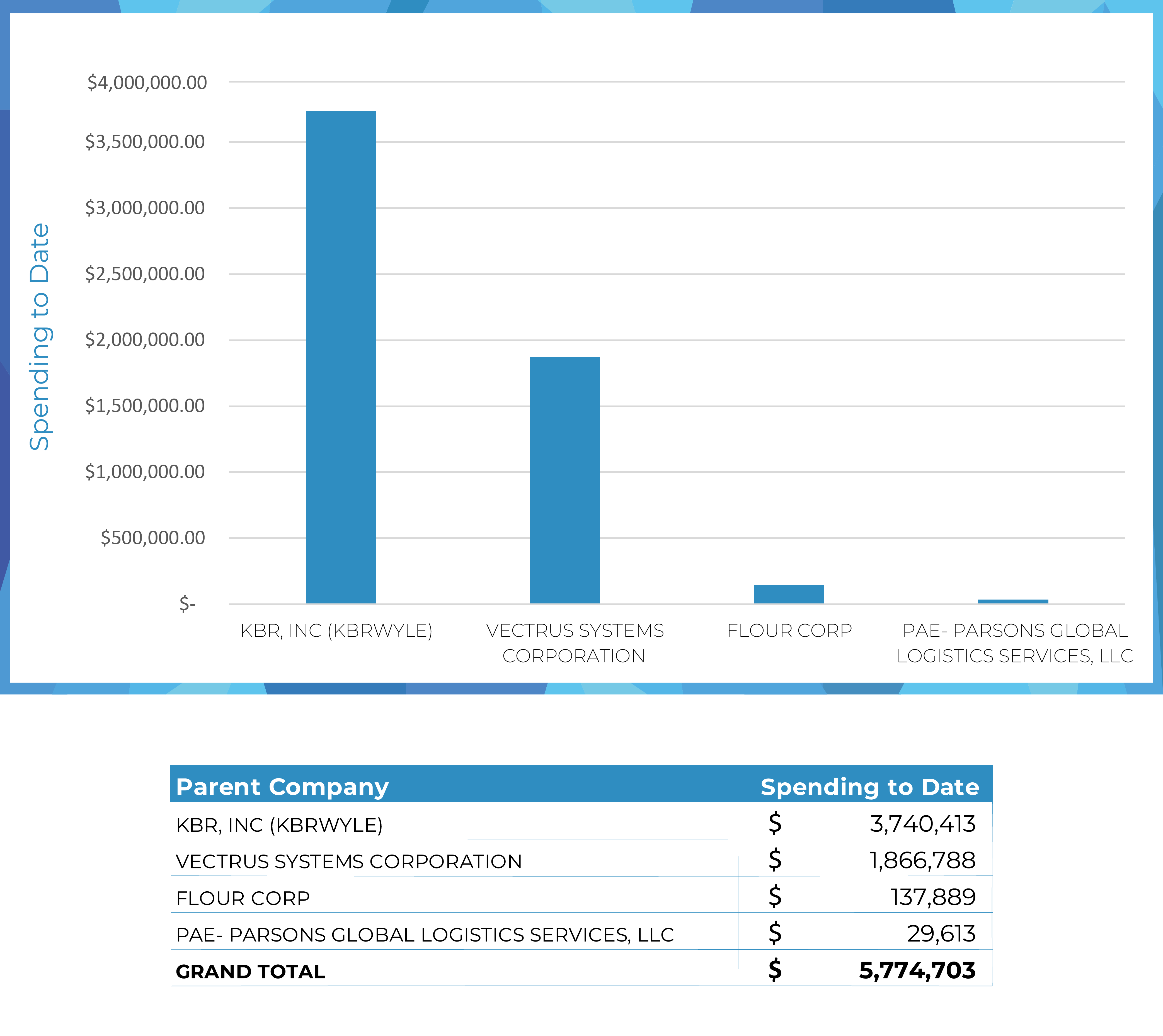 EAGLE II - Multiple vendors currently fulfill the Department of the Army, Army Sustainment Command's requirement for various services under the Enhanced Army Global Logistics Enterprise (EAGLE) Program. The Department of the Army, Army Materiel Command (AMC), and Army Sustainment Command (ASC) have an annual requirement for EAGLE Program. The total estimated is $913,000,000. SAM.Gov states that the Contracting Office released the Solicitation on June 29, 2023, with Proposals due July 31, 2023.
DiPSS – The Diplomatic Platform Support Services Total Small Business Set Aside award expects to be announced in July 2023. This IDIQ holds a value of $2.5 billion with five years of performance. DOS issued another draft of the DiPSS Mission Iraq Support Services (MISS) Task Order to support the US Embassy in Baghdad. The pending final RFP combines the Operations Maintenance Support Services (OMSS) and Baghdad Life Support Services (BLiSS) into a single Mission Iraq Support Services program. PTS has supported Embassy programs with Program Management and cleared trades.
GLOBALCAP – Africa Peacekeeping Operations (AFRICAP) and Global Peace Operations Initiative (GPOI) aim to bolster regional peace, security, and stability. These two DOS programs will now be recompeted under GLOBALCAP. Most recent estimates place August 2023 as the solicitation date, with an award in December 2023. The maximum value is expected to be $5 billion with a ten-year limit for a period of performance. PTS has supported multiple primes with DOS & Africa experts, training SMEs, program management talent, and Key Personnel requirements.