industry news
contract awards
Q1 Industry Update
by Wills Hay | 09 Apr 2023
INDUSTRY TRENDS
The first quarter of 2023 ends with significant developments for companies in the U.S. Government contracting landscape. While continuing to arm Ukraine and planning for post-conflict reconstruction leads headlines as Russia's invasion continues, the Middle East remains relevant as Iraq, Saudi Arabia, and Qatar provide opportunities to support U.S. bases and allies with training. Afghanistan's government remains under extremists with no concern for women's or minority rights. Western allies increasingly focus on China as a growing threat in the Indo-Pacific. The biggest problem with a conflict over Taiwan involves supply chains supporting military operations and meeting global consumer demand. Other relevant trends for contracting include how heavy layoffs in the I.T. space paint Government contractors as stable employers in the near term. Employers also continue struggling with hybrid, remote, and in-person work styles. Many conferences and events held their first in-person gatherings since the beginning of Covid-19. Precision Talent Solutions expects Q2 to have more opportunities for contractors in Ukraine and the Pacific with more in-person meetings.
UKRAINE's support continues through a mixture of finance and equipment. Defense Logistics Agency (DLA) recently released a Request for Information regarding Weapon Sales or Commercial Capabilities for Ukraine Security Assistance. The U.S. has committed roughly $30.4 billion in security assistance. Poland is becoming the base of operations for incoming aid and the U.S. Army in Eastern Europe. Łask Air Base looks to overstep Rammstein as Europe's tactical and operational hub. Ukraine is now the most mined country in the world. Forty countries have committed to demining efforts. This landscape is very different from the Middle East due to geography, sophistication, and scale of mining, with both sides using them. U.S. Embassy Kyiv holds open bids for Border Guard Dugout Shelters, Transportation Support Services, and General Embassy I.T. Infrastructure. Most of Ukraine's contract opportunities are funneled through the U.S. Agency for International Development (USAID). There is a requirement for a Pro-Integrity project worth upwards of $99 million with an estimated solicitation date of May 2023. Ukraine is fighting corruption through digital transformation. They were the first country to place all relevant personal documents online through the Diia app. Military and Industry leadership at AUSA's Global Force Symposium collectively stated that munitions would decide Ukraine's ability to win. The current industrial base cannot support Ukraine to victory and while preparing for a potential challenge in the Pacific. Expansion of the industrial base is essential to meeting current and future threats.
AFGHANISTAN's civil society decline pushes many Afghans to search for opportunities outside their home country, and countries like Russia, Ukraine, and Iran are courting those with military experience, exposing American-trained Afghan special forces at the risk of falling in with adversaries after being left with no better option. U.S. Congressional hearings have begun the blame game while veterans continue to plead with the Department of State (DoS) and Department of Defense (DoD) for options to evacuate the more than 150,000 allied Afghans left behind.
IRAQ held its 20th anniversary since the invasion of U.S.-led forces. It now holds a limited US Military presence to combat the Islamic State of Iraq and Syria (ISIS) and Iran-backed militants. There are significantly fewer contracting opportunities; however, the US Government's military and diplomatic missions still need extensive support. The US Army Corps of Engineers is expected to award a Master Planning Single Award Task Order Contract in March 2023 worth $24 million. DoS Overseas Building Operations (OBO) Iraq O&M Plus will likely issue a new award in June 2023. USAID seeks to support the Government of Iraq entities for an estimated $50-$100 million contract estimated to be awarded in June 2023.
PACIFIC theater activity remains largely out of public view, with a European conflict leading the headlines. However, the DoD recently released President Biden's Fiscal Year 2024 budget highlighting China as the pacing challenge. The U.S. Military will keep pace with China's aggression in the Pacific through enhanced force posture and supply chain investments. The conflict in Ukraine showed the downfalls of sustainment and the challenges in contested logistics. PACOM will need to develop logistics solutions through theater distribution centers. APS will be handled differently in PACOM, where geography and space differ from past theaters. On March 14th, seven vendors were awarded Multiple Award Construction Contract projects in Guam and the Mariana Islands worth $2.5 billion. This base development contract aligns with the U.S. desire to increase force posture in the Pacific, lessening supply chain requirements with prepositioned stock/forces. U.S. Navy has a continuing need for Fleet Readiness Center Aviation Support, Equipment Maintenance Repair, and Overhaul Support Services with an estimated award date of May 2023. A solicitation in June 2023 is expected for DoD fuel systems at military installations in the Pacific and worldwide. The ceiling value is expected to be $2.5 billion, with most task orders between $1 - $5 million. Partners in PACOM are not as motivated to support or as accustomed to the partnership as those in NATO, and the solutions need to be changed to reflect this. DoD must identify and partner closely with commercial entities to optimize movement and delivery within PACOM. 
MERGERS & ACQUISITIONS in the first quarter of 2023 saw limited activity, especially between large firms. Parsons Corporation acquired IPKeys Power Partners, a provider of software platform solutions that delivers cyber and operational security to electric, water, and gas utilities. Parsons is expected to close the acquisition of Xator by 1 April. CAES Systems Holdings, a radio frequency technology provider, bought Herley Industries and Herley-CTI, Inc. Cherokee Federal acquired Criterion Systems, a cybersecurity and IT services company. Deep Water Point closed its acquisition of management consulting firm Wolf Den Associates. These examples highlight a trend of companies seeking to shortcut growth in the Tech space by adding an organization with successful past performance to their portfolio.
MAJOR PROGRAMS
LOGCAP V – Get ready for more B&P burn! The Army Sustainment Command (ASC) is planning to potentially recompete the performance task orders in the order they were awarded (NORTHCOM, EUCOM, AFRICOM, SOUTHCOM, CENTCOM, and finally, INDOPACOM). This is being coined LOGCAP 5.5 and is expected to drive significant bid & proposal activity starting as early as 2024. U.S. Army Sustainment Command will move future contracted Care of Supplies in Storage Services (COSIS) used to support Army Prepositioned Stock (APS) to the Army's Logistics Civil Augmentation Program Contract (LOGCAP). V2X, Fluor Corporation, KBR, and Amentum – Parsons Corporation Global Logistics Services maintain the four LOGCAP prime spots. APS COSIS task orders are expected to be competed under these primes in 2023. Deltek and Government have yet to release any estimated timelines. As a sign that ASC is looking for competition within the COCOM's on new work, there is a new Task Order for support in Jordan, which is being competed among all the primes. PTS has deep roots in LOGCAP with extensive operational experience and a deep talent pool, and we are currently supporting multiple primes on the contract.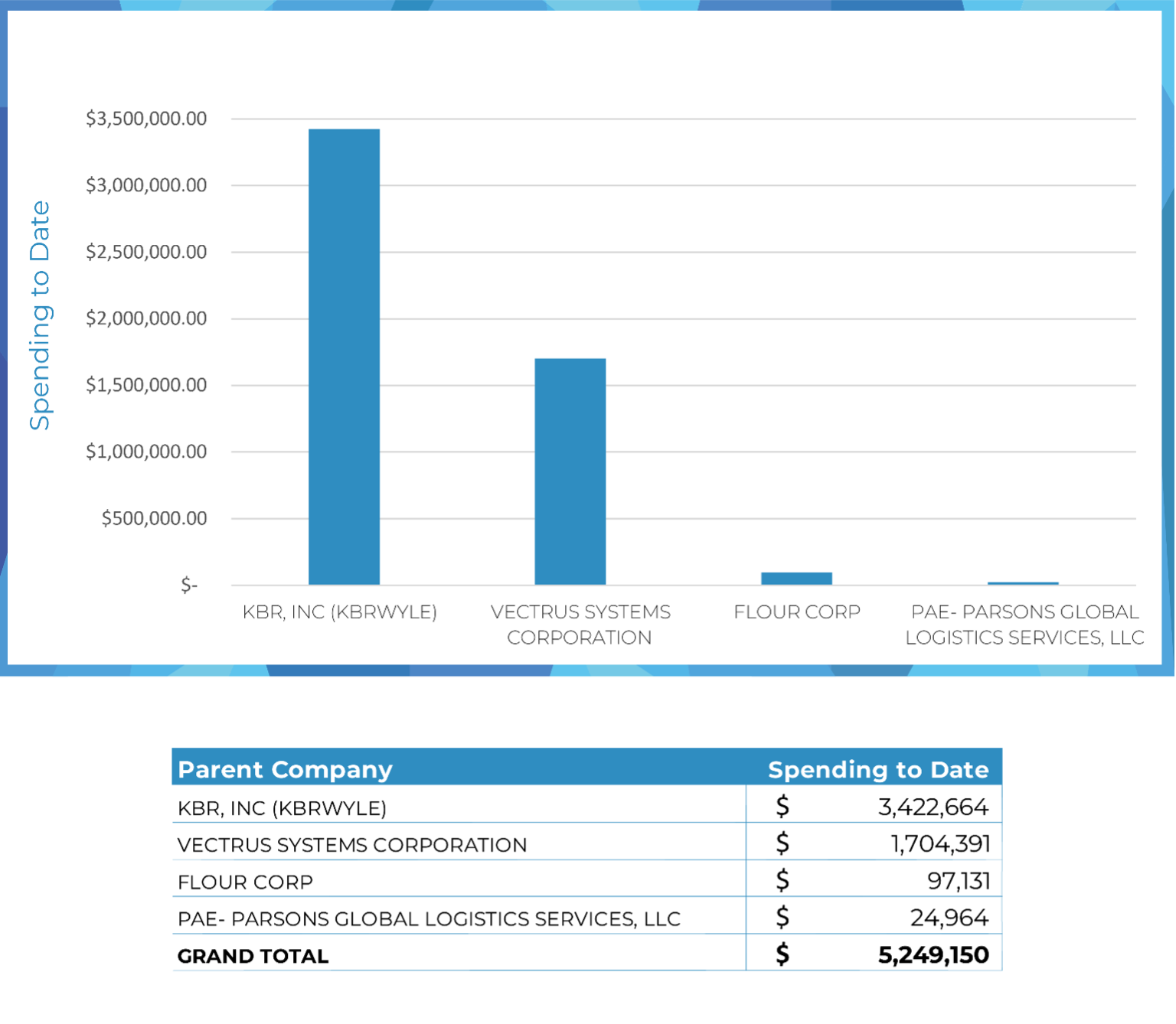 LOGCAP V 2023 Spending to date*
DiPSS – The Diplomatic Platform Support Services Award (DiPSS) Total Small Business Set Aside award expects to be announced in March 2023. This IDIQ holds a value of $2.5 billion with a five-year period of performance. OBO has issued another draft Task Order to support the US Embassy in Baghdad. The pending final RFP is expected to combine the Operations Maintenance Support Services (OMSS) and Baghdad Life Support Services (BLiSS) into a single program called Mission Iraq Support Services. DoS also exercising DiPSS to support the evacuation of thousands of Afghans. PTS has supported Embassy programs with Program Management and cleared trades.
AFRICAP/GPOI/GDRP to be GLOBALCAP – Africa Peacekeeping Operations (AFRICAP) and Global Peace Operations Initiative (GPOI) aim to bolster regional peace, security, and regional stability. These two DoS programs will now be recompeted under GLOBALCAP. Deltek estimates Spring 2023 as the solicitation date, with an award in September 2023. The maximum value is expected to be at $5 billion with a ten-year limit for a period of performance. According to Deltek's GLOBALCAP update on March 9th, 2023, Amentum continues to lead the spending amongst prime contracts. PTS has supported multiple primes with DoS & Africa experts, training SMEs and program management talent and supporting Key Personnel requirements for the busy task order season.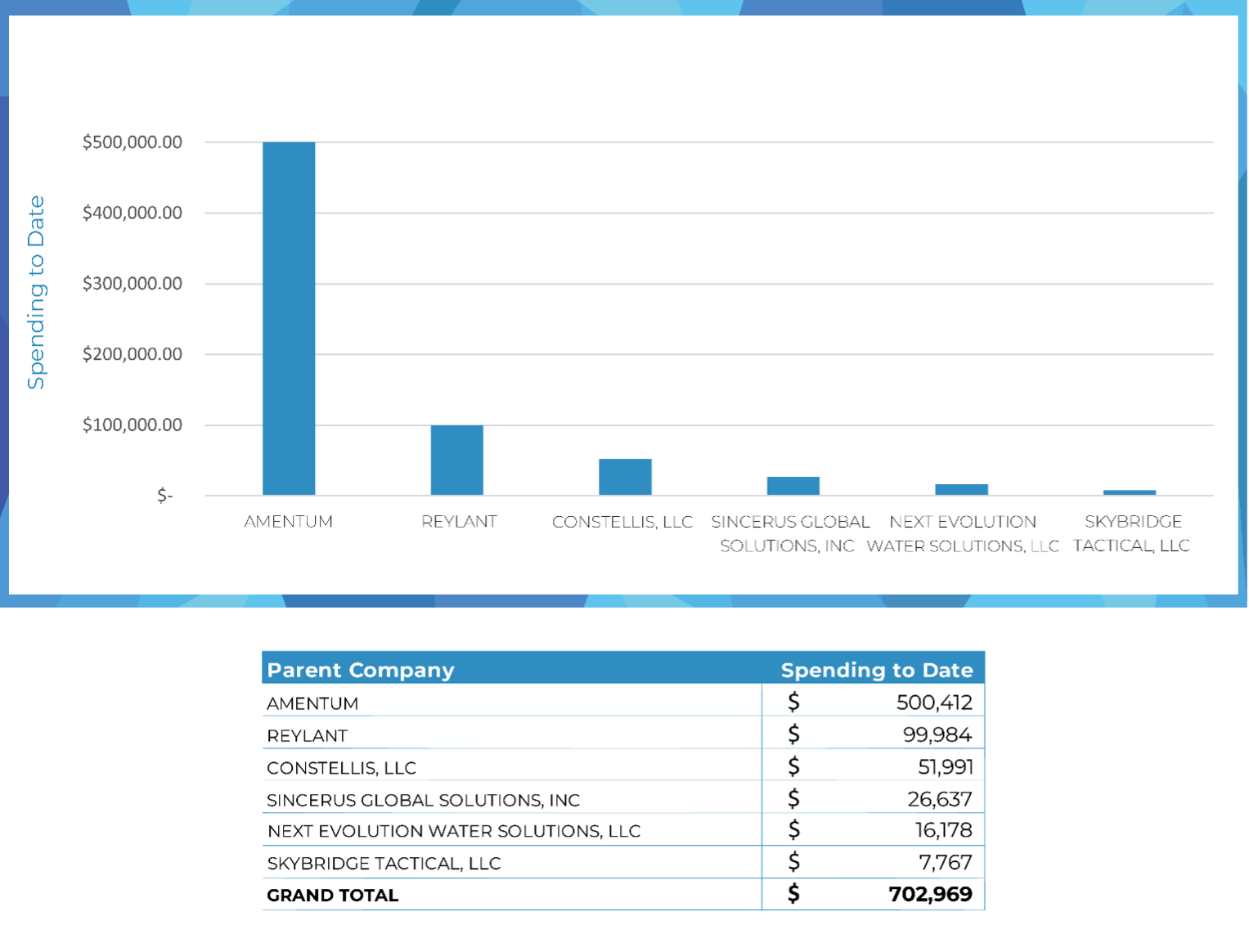 AFRICAP 2023 Spending to date*
USAID – USAID is preparing to award as much as $17 billion in contracts for global health through the Next Generation Global Health Supply Chain (GHSC) vehicle. The award will be the agency's most significant in history. The new version of GHSC aims to fix the ails of previous iterations modeled after colonial-style aid. There are 8 contracts in the NextGen GHSC initiative, and none have been awarded yet. GovWin estimates the NextGen Comprehensive Technical Assistance and Integrated PSA will be awarded in May of 2023 with estimated values of $2+ billion each. The same month, USAID expects to release the Swift 6 IDIQ solicitation for an estimated $3+ billion. More than 1,400 individuals from 25 countries attended the NextGen Industry Day over two years ago, and interest has only grown. Precision has supported several aid and development providers with team build-outs and strategic hires to support capturing these critical future awards.
BOS Programs –V2X continues to perform on the Kaiserslautern Total Maintenance Contract while the government sorts through the award to Amentum. NAVFAC is preparing to bid out essential BOS programs, including Djibouti, Singapore, and Naples. CONUS BOS Air Force programs are undergoing recompetes, with one significant award in the first quarter. Akima Intra-Data, LLC won the Small Business Programs for Keesler Airforce BOS, and the Laughlin BOS contract for $113,908,787 was awarded to Chugach Logistics and Family Services JV LLC. Macdill and Maxwell Air Force bases remain under recompete with estimated awards third quarter of 2023 and the first quarter of 2024. Camp Lejeune awarded DSC-EMI Maintenance Solutions LLC a $246,801,308 BOS contract to support the Marines in North Carolina. PTS has supported multiple BOS programs across North America, Europe, Africa, and Asia with Program Management and technical talent. 
DHS – Department of Homeland Security (DHS) will invest heavily in IT modernization for Fiscal Years 2023 and 2024, as President Biden's recent budget announcement highlights. This drive to implement technology seeks to improve processes for immigration and border security. DHS's third iteration of the Program Management, Administration, and Clerical Technical Services (PACTS) III. This IDIQ will be a set-aside for service-disabled veteran-owned small businesses, women-owned small businesses, historically underutilized business zones, and 8a businesses. PACTS III holds an estimated solicitation date of August 2023, with an anticipated award in August 2024. PTS has supported clients with talent for Program Management, Capture, and the Office of Refugee Resettlement (ORR).
DTRA – Defense Threat Reductions Agency (DTRA) requires logistical support. The Threat Reduction Logistics Services II IDIQ contract anticipates solicitation announced in May 2023 with an estimated award of September 2023. The contract holds a maximum value of $150 million. Culmen International serves as the incumbent. DTRA has a continuing requirement for Combating Weapons of Mass Destruction Research and Technology contracts. The estimated $4 billion IDIQ is anticipated to be awarded in March 2023. SAIC, Northrup Grumman, Alion Science and Technology, Peraton, Leidos, Raytheon, and Applied Research Associates serve as the incumbents. PTS understands the niche technical requirements for DTRA programs and has deep pipelines of former military and government personnel.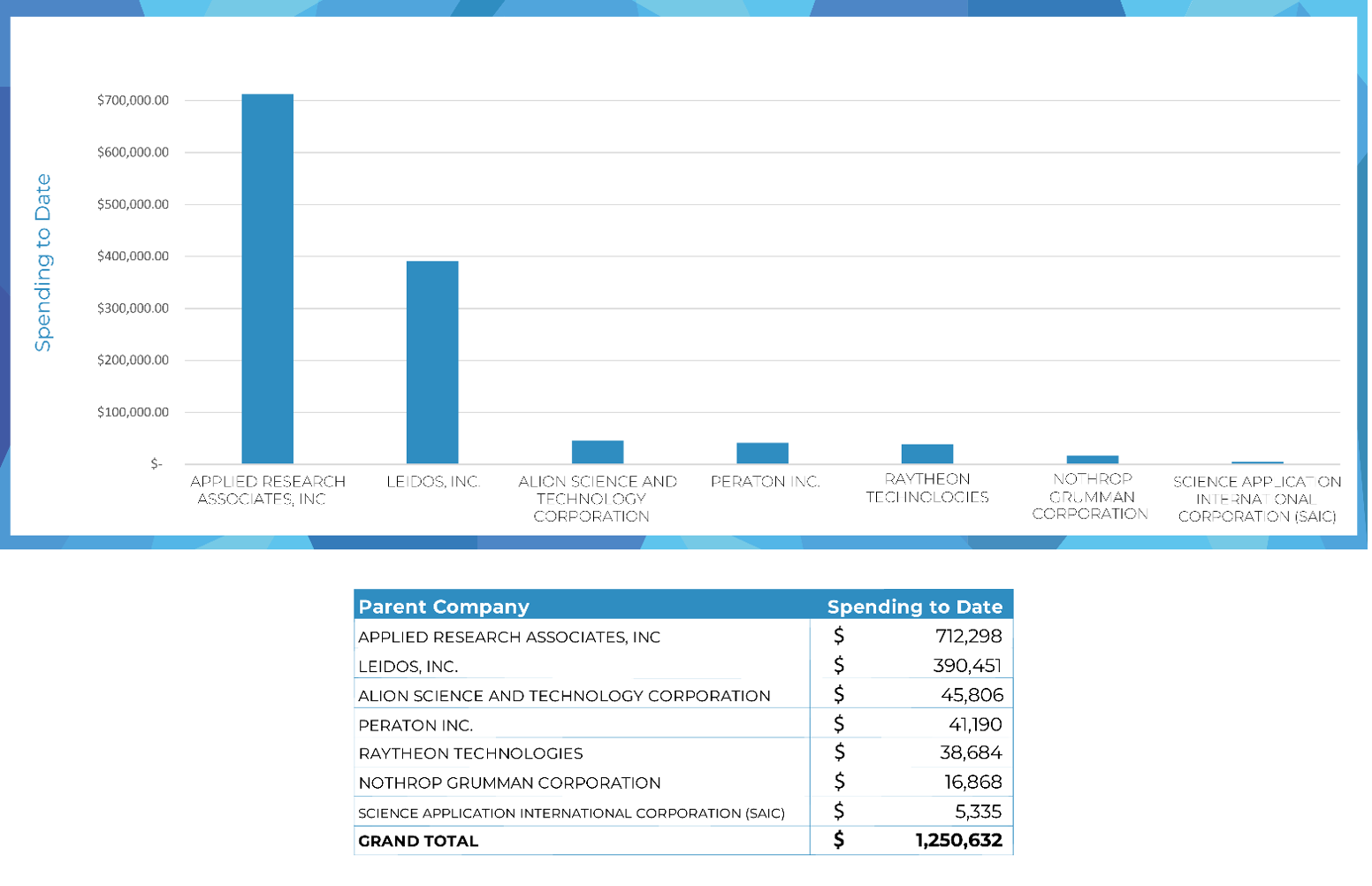 CWMD Spending to date*
DLA – Defense Logistics Agency (DLA) has a continuing requirement for Subsistence Prime Vendor Support for Iraq, Jordan, Kuwait, and Syria with an estimated $1.2 billion for five years of performance. GovWin estimates the solicitation will be released June 2023 with an award in December. Trident E&P and FUJIFILM Business Innovation Japan Corp have each been awarded a firm-fixed-price IDIQ contract with a combined ceiling of $46,000,000. Valiant Integrated Services will continue to help DLA distribute food products to U.S. troops in Southwest Asia / UAE under a $530 million follow-on contract. PTS has deep roots in DLA Prime Vendor/TLS programs with an extensive procurement, supply chain, and Program Management talent network.
AFCAP V – The Air Force continues to look for opportunities to shift its organic "blue suiter" footprint while leveraging AFCAP to provide contracted support. With most of the legacy AFCAP IV being recompeted and transitioned into operations, there is limited bid activity on AFCAP. PTS has supported multiple AFCAP primes with Engineering, Airfield, and Logistics talent.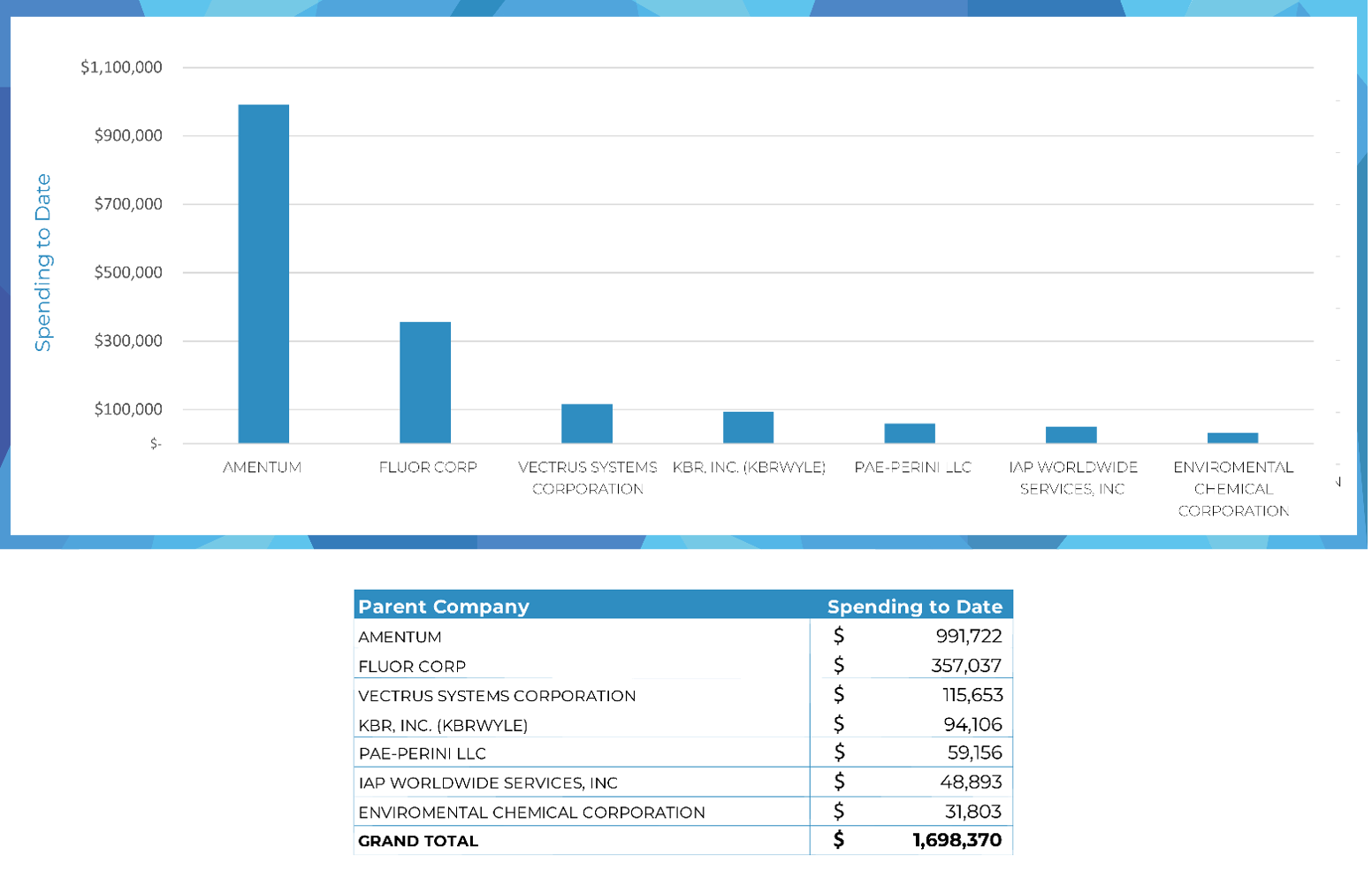 AFRICAP Spending to date - Air Force*
DoS Medical – Department of State (DoS) Bureau of Medical Services seeks support centralizing oversight of its worldwide medical support platform. The Global Medical Support Services (GMSS) IDIQ contract holds an estimated $1.6 billion value with a solicitation date of June 2023 and an anticipated award in December 2023. It remains to be seen if the Medical Support Services Iraq (MSSI) will be included in this new MATOC or tucked into DiPSS.
NATO/NSPA: The NATO Support and Procurement Agency "Support to Operations" Directorate is poised to have a busy spring with the expected publication of numerous construction-related RFPs. Architect and Engineering projects in Spain, Germany, Iraq, and the Baltic region are on the horizon. The long-awaited Design-Build Airbase refurbishment project in Slovakia is now targeted for release at the end of April. There is a continuous stream of projects in Kosovo, with a new project announced almost monthly. Information Technology companies should watch for development contracts linked to the Enhance Support Services program. The increase in OPTEMPO in Europe will likely ramp up activity across NATO, including operational contracting with NSPA. Contact our NATO Consultant, Jim Shields, for more on how PTS can help your company develop a winning NATO business line.
PTS UPDATES
PTS is releasing our new website on www.pts.careers with an update on our services and sectors. We are also highlighting testimonials from our customers & candidates, and we have an active blog to keep our community informed on Contract Awards, Industry News, and Career Support. There is no need to wait for our famous Quarterly Updates when the news is almost live on our Blog!
Precision Talent Solutions continues to innovate our government contracting approach. We've increased our geographic footprint to twelve countries encompassing North America, Europe, and the Middle East. Our team prides itself on being more than just a place to go for talent. PTS partners with its clients to provide talent, market intel, and access to our vast networks. With recent memberships at the Professional Services Council (PSC) and Armed Forces Communications & Electronics Association (AFCEA) expanded our industry reach. These new additions are on our social media, run by Marketing Specialist Tereza Mershon. Tereza led the PTS website rebrand with a desire to highlight our team as the main differentiator between PTS and other recruiting agencies.
**Industry-Related Events: **
PSC Annual Conference – 4/16
15th Annual Small Business Conference – 4/19
TechNet Cyber 2023 Innovation Showcase – 5/2
SAME Joint Engineer Training Conference & Expo – 5/2
SOF Week (Formerly SOFIC) – 5/8
Society for International Development Annual Conference – 5/24
AFCEA TechNet International Expo & Forum – 6/6
PSC Federal Acquisition Conference – 6/22
International Defence Industry Fair – 7/25
**State of the Talent Landscape: **
Despite the macroeconomic trends impacting other portions of the U.S. economy, the defense industry remains a "candidates' market". Layoff data coming through is significantly lower than pre-pandemic trends, while resignations remain elevated. This creates an ecosystem where candidates have the choice. In fact, the combination of these trends is more likely to have candidates emphasizing longevity and stability with their current employers and avoiding a time-consuming job search.
Business development continues to be an area many PTS clients focus on, with full-time placements to target specific opportunities and key personnel searches for B&P efforts. For employers struggling to find talent through the open market, Precision is uniquely positioned to contact passive talent that would prefer discretion when considering a new opportunity. Similarly, PTS is seeing an increase in confidential postings where companies intend to make strategic hires but do not want the industry aware of their next move.
Sources:DHS, HHS, DoS, DoD, LOGCAP,USAID, DLA